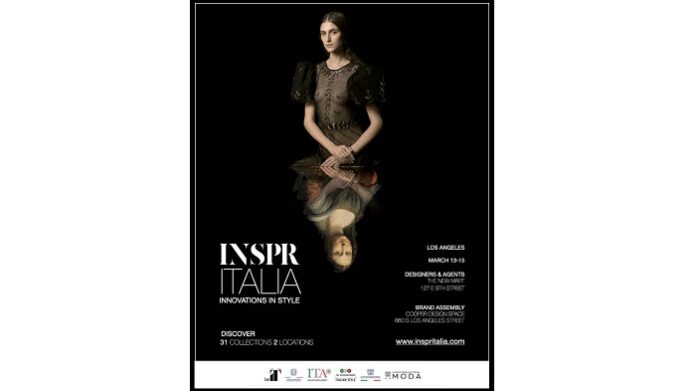 It was announced today the Italian Trade Agency (ITA), in collaboration with Confindustria - the main association representing manufacturing and service companies in Italy - is supporting Italian design by debuting its first-ever fashion "roadshow", INSPR ITALIA Innovations In Style starting in March in Los Angeles, CA. The roadshow will then move to Miami, Dallas and Atlanta, bringing new Italian designers to regional U.S. markets via B2B appointments with retailers and buyers.
The Fashion roadshow will debut at Los Angeles Market Week on March 13-15, with the participation of 31 Italian designers of women's contemporary fashion, accessories, and shoe brands celebrating Italian design excellence. Debuting in March at the Los Angeles Brand Assembly Show in the Cooper Design space and at the Designers & Agents show in the New Mart, these 31 Italian designers will showcase their unique collections. The exhibition will continue to Miami, Dallas and Atlanta featuring new artisans in each market.
The Italian government created a special plan for the promotion of "Made in Italy" and the attraction of investment in Italy. Its aim is to expand the number of enterprises, particularly small and medium-sized ones, operating in the global market. The goal is to expand Italy's share of international trade by enhancing the image of "Made in Italy" in the world and to support initiatives to attract foreign investment in Italy. As a result, the Italian Trade Agency's 2023 promotional program INSPR ITALIA INNOVATIONS IN STYLE was created to bring fashion and accessory goods from small to medium sized Italian enterprises to the U.S. during key fashion markets, in order to take advantage of the presence of buyers, press and influencers. The project, in view of the multi-sector and complexity of the market, will have a broad scope and possibly a three-year projection in order to achieve the expected results. It will be integrated with the vertical actions already in place to promote individual product categories.
The U.S. market is of strategic relevance for Italian fashion manufacturers (Apparel, Footwear,  
Leather Goods, Skins and Furs, Textiles and Yarns, Eyewear, Cosmetics and Jewelry), both in terms of size and driving capacity in consumer behavior patterns, compared to the rest of the world. The United States, in terms of consumers of fashion products, represents the leading non-European Union market for "Made in Italy".
Italy is the fourth largest supplier for U.S. imports in the Fashion sector. The U.S. imported $13.34  
Billion worth of products from Italy in 2022, up +10,4% over 2021, exceeding the value imported in 2019 pre-pandemic ($9 billion) by more than 48%. Italy, with a market share of nearly 5%, ranks 4th over 2022, among the major supplier countries to the U.S., after China (11%), Vietnam (33%), and India (10.4%). In 2022, the following 5 products accounted for 85% of Italian Fashion exports to the U.S.: footwear (18.2% of the total), apparel (15.8%), goldsmithing/jewelry (20.3%), leather goods (17.4%) and eyewear (12.1%). The main products for export in 2022 are confirmed to grow with double-digit values, with some products in a leading position. In 2022, Italy was the top U.S. supplier in leather and furs (1), eyewear and leather goods (2), and footwear (4). 
"It is important to us that the U.S. market can see firsthand the spirit and the depth of products created and produced in Italy. We want everyone to be inspired by Italy's love of creation, craftsmanship, artisanal tradition, and heritage. We celebrate the talent and innovation of the present combined with our heritage of craftsmanship," Antonino Laspina Italian Trade Commissioner and Executive Director.
INSPR ITALIA INNOVATIONS IN STYLE promises to be a fresh and modern perspective on Italian design and craftsmanship.  
Designers who will be showcased in Los Angeles at Brand Assembly are:  Antura Accessori,  Athison,  Dezen Dezen, Ducanero , Fracap, Giovanna Nicolai, Karma of Charme, Laboratorio Mariucci, L'Aura borse, Mimi et Mama', Ploumanc'h, Sesa Shoes, Shaft Jeans, and Shoto.
Designers showing at the Designers & Agents show are:  Alienina, Alysi, Anthemis, Bsbee, Elom, Etici, Halmanera, Henry Beguelin, Lavi Couture, Moma Shoes, Momomi', Ofhandmade, Pomandere, Suprema, Transit par Such, Voile Blanche, and Whyci Milano.
###
About the Italian Trade Agency
Since 1926, the Italian Trade Commission, with 79 offices worldwide, has been the Italian government agency entrusted with the mission of promoting trade between Italian companies and foreign markets. The Fashion department, based in New York City, works on increasing the awareness of Italian products in the U.S. by being the point of reference for trade and press and promoting fashion through educational events, informational materials, special events, and promotions. For more information on the ITA and its presence in Italy and the World, please visit their website: www.ICE.IT 
Instagram: https://www.instagram.com/extraitastyle/?hl=en 
Facebook: https://www.facebook.com/ExtraITAStyle/  
LinkedIn: https://www.linkedin.com/company/extraitastyle/ 
About Designers & Agents
Designers & Agents (D&A) is, an independent, trade show well known for changing the landscape of the modern trade show experience by bringing a selection of curated designers to the marketplace in New York and Los Angeles. D&A implements a rigorous screening process, resulting in brands that possess originality, creative integrity, and exceptional quality. D&A's distinct point of view and keen eye make it a key destination where retailers will discover resources that will distinguish their stores from the status quo. Recognized for its focused perspective in women's ready to wear, accessories, and lifestyle; each season D&A presents over 300 brands from the United States, Europe, Japan and around the World.
About Brand Assembly
Founded in 2013, Brand Assembly is a business platform and a community built to accelerate fashion and lifestyle brands. Our mission is helping brands achieve theirs. We do this by providing the resources, infrastructure and community through our trade shows in Los Angeles and Dallas, our consulting and curatorial services, and back office offering. We are passionate about creating and developing the tools that designers need for their brands to prosper.
Brand Assembly works with and supports over 500+ brands and has a network of thousands through our various divisions: Brand Assembly Show and The Faculty. For more information, visit https://www.brandassembly.com.
Instagram: @brandassembly